Show Results
Monterey Bay Rose Society's
34rd Annual Rose Show
May 3, 2014
The annual rose show for the Monterey Bay Rose Society was moved up a week early this year because of a conflict with the ARS National Show which takes place in San Diego on the second weekend in May. Working with only two judges this year, we had Joe Ghio to thank for seeing that the judging moved along quickly and smoothly. Remarkably, judging was completed on time with many visitors champing at the bit to be allowed into the exhibition tent.
2014 Queen of Show was a perfectly formed, apricot-colored hybrid tea, Brandy, won by Marjorie Callahan. She also won King of Show with a pristine Lynn Anderson, which seems to win regularly at our show—but so does Marge! Princess of Show went to Joe Ghio with a brilliant yellow Henry Fonda. Best in Show went to Karl Dost with a breathtaking Grandiflora spray, Wild Blue Yonder. Floribunda Queen of Show was won by Teresa Engel with her exquisite Lavaglut, while Floribunda King of Show was Karl Dost's Eye Paint. Joe Ghio's lovely Wild West was named Floribunda Princess of Show. Mini Queen was Grace Amazing, entered by Karl Dost. Mini King was Marjorie Callahan's Bees Knees, and Mini Princess was Karl Dost's Alysheba. Congratulation to all the winners! See below for a complete list of all the winners.
A big thank you to Joe Ghio for herding the judges through their assignments; and to Judy and Jim Sauvé who once again put together a silent auction table to raffle off prizes as a fundraiser for the club. And thanks to all the club members who acted as runners, clerks and docents throughout the show.
Corralitos Meat Market's barbecued samples of all their sausages to an appreciative crowd. This year, Gustavo Beyer, owner of Alladin, hired two bands, one for the front of the nursery and a jazz band for the rose connoisseurs at the back of the nursery. Wine tasting along with cheese and nibbles were provided by a local winery and fresh strawberries were available for sale. A mosaic artist had her whimsical wares for sale, and a jewelry maker was also on hand with her lovely bracelets, earrings and necklaces.
The weather was perfect this year, and we want to express our thanks to Gustavo, who graciously opens his nursery to us every year and sees to it that everyone has a good time.
Also special thank you to our hardworking ARS judges: Betty Mott and Martine Ham.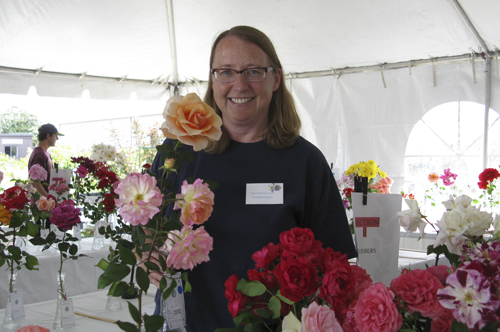 Queen of Show, Brandy, won by
Marjorie Callahan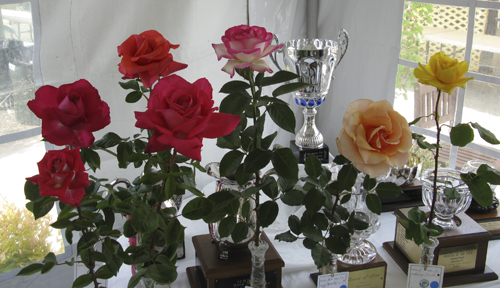 The Queen and her court: from the left to right—Love, Tomi Edmiston; Peter Mayle, Janey Leonardich; We Salute You, Karl Dost; Grand Dame, Janey Leonardich; King of Show–Lynn Anderson, Marjorie Callahan; Queen of Show–Brandy, Marjorie Callahan; and Princess of Show–Henry Fonda, Joe Ghio.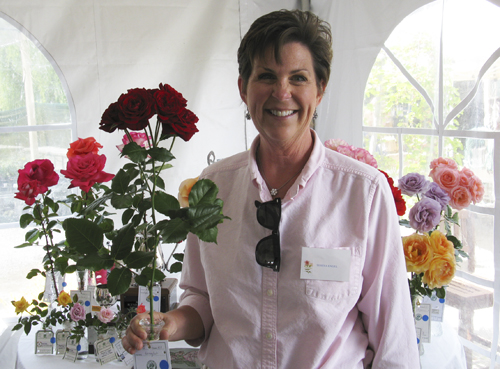 Floribunda Queen of Show, Lavaglut won by Teresa Engel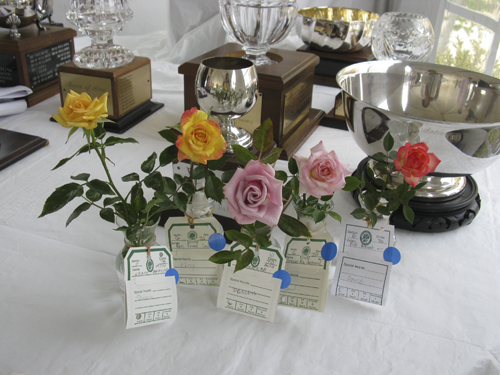 Mini Queen–Grace Amazing, Karl Dost; Mini King–Bees Knees, Marjorie Callahan; Mini Princess–Alysheba, Karl Dost;
Court: Pink Petticoat, Marjorie Callahan;
American Rose Centennial, Marjorie Callahan.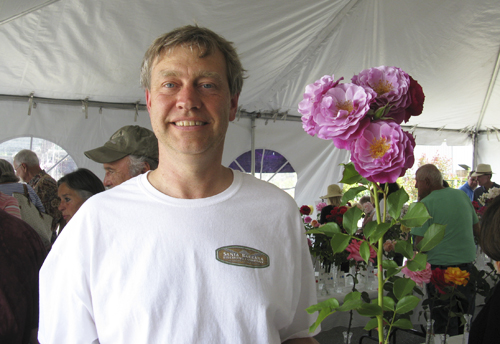 Best in Show was a stunning Grandiflora spray named
Wild Blue Yonder, won by Karl Dost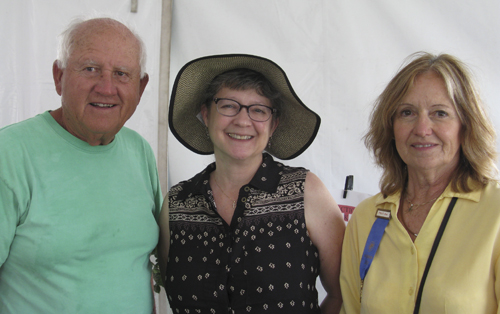 After a harried morning, these folks were still smiling! Joe Ghio, taskmaster, and judges, Martine Ham and Betty Mott.


To see show photo album, click here:
More 2014Photos
---
Thank you, Janey Leonardich, for stepping in and taking over the tabulation work!

ARS judges: Betty Mott and Martine Ham


| | | |
| --- | --- | --- |
| Award | Exhibitor | Name of Rose |
| Best in Show | Kark Dost | Wild Blue Yonder |
Hybrid Tea & Grandiflora